Confidential invoice discounting
Confidential invoice discounting is a very similar process to factoring, the main difference is that you run the credit control, and the bank details on the bottom of your invoice to your customer are in your name through a trust account. Your business would also need to run monthly reconciliations to the lender through your accountancy package.
This service provides your business with up to 90% of the gross invoice value normally within hours of you raising the sales invoice to your customer (receiving the remaining 10% when your client pays). In certain cases some lenders will advance as much as 95%!
In simple terms, you raise the invoice, upload the invoice values to the lender's portal and then request the amount of money you require. You collect the invoice debt and once the invoice gets paid, the remaining balance becomes available to you.

How does it work?
The basic process is outlined in the diagram below: -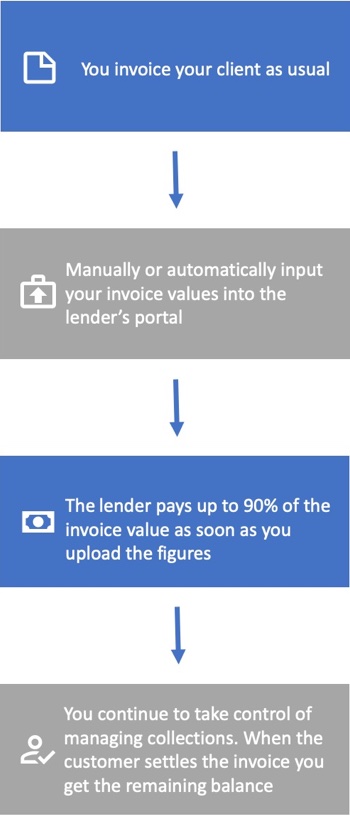 In summary:
1 - You invoice your client as usual.
2 - Manually or automatically input your invoice values to the lender's portal.
3 - The lender pays up to 90% of the invoice value as soon as you upload the figures.
4 - You continue to take control of managing collections, when the customer settles the invoice you get the remaining balance.
Most invoice discounting facilities have the option to add bad debt protection should you wish to protect against your customer not paying or going into administration (different terms apply).
Click here to get your Confidential Invoice Finance quotes.